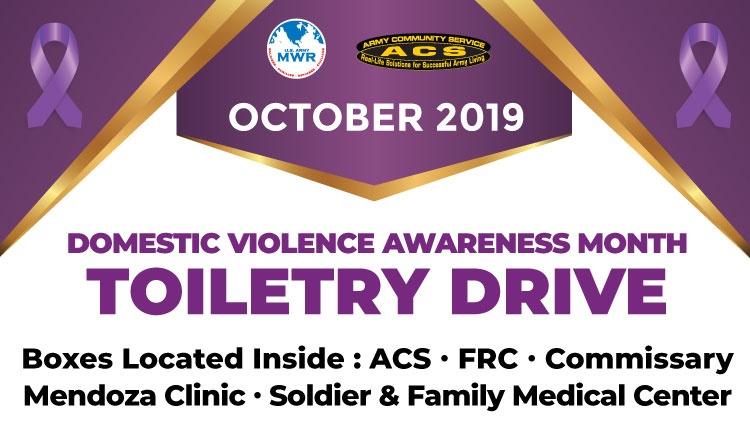 Domestic Violence Awareness Month Donation Drive
Date: Oct 1 2019, 12 a.m. - Oct 31 2019, 11:59 p.m.
Family Advocacy Program (FAP) - 2494 Ricker Road West Fort Bliss Google Map
The Family Advocacy Program is hosting a Domestic Violence Awareness Month Toiletry Drive. Donations will be given to the Center Against Sexual & Family Abuse.
Donation boxes are located at: ACS, FRC, Commissary, Mendoza Clinic and Soldier and Family Medical Center.
Items Needed: body wash, dental floss, disposable razors, hair brushes, hair spray, kleenex tissue, lotion, Q-tips, shampoo & conditioner, shower totes, toliet paper, toothpaste, air freshener, bleach, cleaning supplies, dishwasher detergent, gallon ziplock bags, kitchen trash bags, large platic containers, laundry baskets, laundry detergent, paper towels and plastic wrap/foil.
For more information, call 915-569-7224